We're sure that most people reading this have had their business established for more than 5 years and are looking for sustainable growth. Today, you'll be learning how to continue growing your business. This is a highly sought after answer for most companies who are struggling with building a sustainable business.
We're honoured to feature our client, Fixics Solutions (S), who, like many of you, have had to step up your services and capabilities to keep up with our fast-paced economy. They have allowed us to share their incredible story with you so that you too can learn how to strive for sustainability and continuous growth.
Let's dive in.
Some context about our featured client, Fixics Solutions (S)
Fixics Solutions (S) is a B2B cloud-based solutions IT company that uses the latest innovations in technology to deliver and give their clients a competitive edge. Competing in one of the fastest growing industries, Fixics provides an agile suite of IT services that help companies of different sizes to scale up as the company grows. This framework of flexibility has enabled them to provide practical and tailored solutions that truly serve the needs of their clients.
Understanding Market Demands
As a brand, you know it's a necessity to be apprised with industry changes, consumer demands, and trends. Being apprised helps you to adapt your business accordingly and stay relevant in the minds of consumers. Consumers are relentless in finding the best services and products that solve their problems. Our job as brands is to convey to our consumers that we are always looking out for their best interests. The focus is on them, not us.
Fixics has made it their duty to continually be familiar and updated on the latest advancements in technology. Since their establishment in 2002, they were a brand that provided traditional IT solutions based on the needs of their clients at that time. Fixics, being a local SME company, understood the common problems that their clients faced. This knowledge has helped them to convey that understanding and provide solutions that apply specifically to local businesses.
Further, it was evident that the Singapore government was rolling out plans to make the transition towards a digital economy. As a consequence, that meant drastically speed up the infrastructure and capabilities of SMEs. 99% of the enterprises in Singapore are SMEs, of which, 85% are local enterprises (Source: Singstat, 2018). Knowing that there will be a massive demand for IT solutions towards digitalisation, Fixics had to scale up their capabilities to anticipate the shift towards digitalisation and the market demand that was about to come.
Upgrading Your Capabilities: For Yourself and Your Customers
When you know where the market is heading, it's time to access your capabilities and see if your business is prepared for it. Upgrading your capabilities is an internal process where you either build on your existing products or services or change them to fit your industry. It can also include restructuring your business processes towards efficiency and meeting higher service standards. The outcome is a brand that is current with their industry and consumer demand.
Over the years, Fixics is continuously experimenting with new technologies in their industry and finding practical, cost-effective ways to implement them for their clients. Attributing to their success is the high standards of service that Fixics provides. Pairing with technology, Fixics implemented a single point of contact to streamline work processes and promotes accountability internally. The use of a single point of contact for every project streamlines work process. It also results in a quicker turnaround for projects, timely support, and reduces miscommunication.
However, the time came where the market positioned Fixics to face newer demands of IT solutions. Traditional services did well but digitalisation is increasing faster than enterprises can make the switch. To continue growing and be updated, an expansion of Fixics' services was needed to cover the new demands. As such, the brand shifted its focus to providing cloud-based IT solutions. The shift meant a significant change in its core services with implications to their work processes and beliefs.
At this point, Fixics felt that the business will be going through so much changes that its services and beliefs may not be conveying clearly through her brand as it once did.
Rebranding to Show The New You
As your business changes over the years, there comes a time where your brand goes out of alignment. Your brand may be outdated in design, your strategy has changed, or you have a diffused set of services.
Remember that your success relies heavily on your customers relating and connecting with your brand. Your brand is what your customers perceive you to be which is why your brand has to be aligned with the way you operate behind the scenes (i.e values, beliefs, processes, etc.) That connection is so vital that it requires the most attention especially if you are a company that constantly updates its products and services – it is easy to go out of sync.
Fixics engaged us to relook into their brand to include their new core service of providing cloud solutions. We decided that redesigning Fixics' brand system was the best way to approach their rebrand. The new brand system resulted in a slew of new brand assets and strategy, from logos, to a clear set of values, personality, and even a new website.
The Fixics brand before: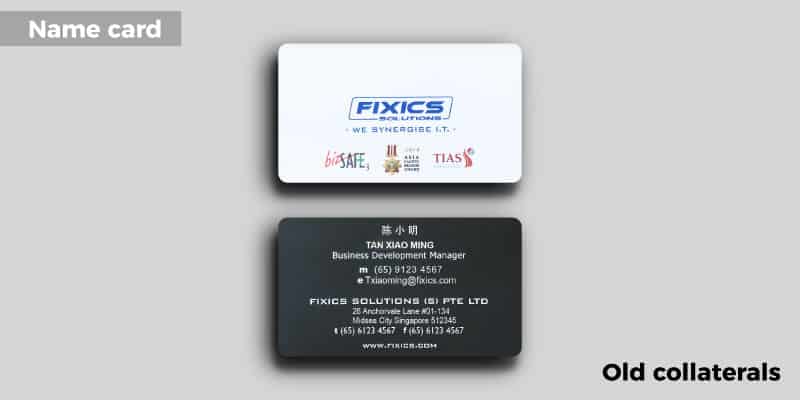 Namecard (before)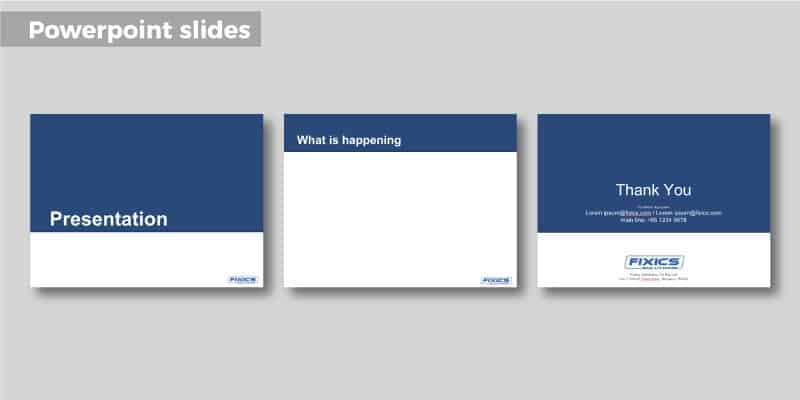 Presentation Slides (before)
The Fixics brand now: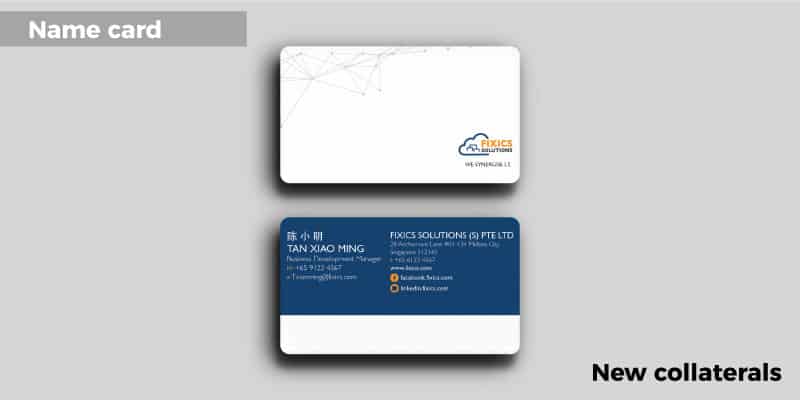 Namecard (now)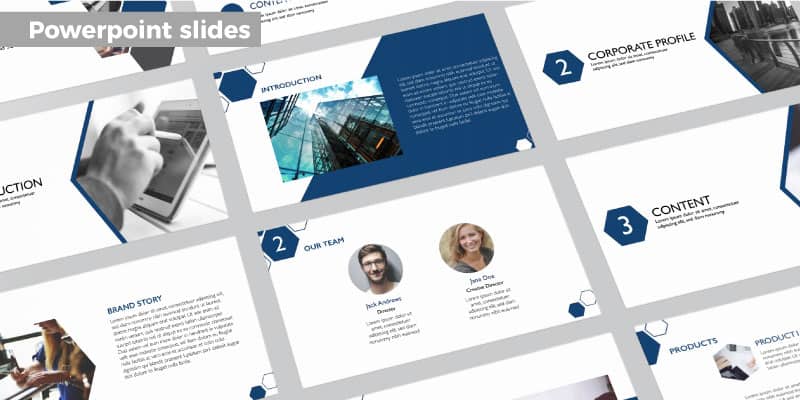 Presentation Slides (now)
Ensuring Sustainability in Our Local Landscape
Knowing the possibilities and processes of how Fixics' maintains a sustainable business. We hope it serves as inspiration on what your brand can also do in the context of our local markets. Here's some additional advice from the founders of Fixics Solutions (S) on increasing your capabilities for growth.
Advice From The Fixics' Founders:
"Implementing modern IT solutions will help companies on increasing efficiency and productivity in the long run. It will take SMEs some time to proceed with the transformation as they need to see the real value in IT solutions. To help clients to integrate IT solutions into their operations, bitesize implementation is the way that enables them to scale as they grow."
Take a look at the rebranded Fixics Solutions (S) website here.
How Etereo Faces the Changing Landscape
Even as a management consultancy and being strong advocates for sustainable business solutions, we too have to step up our capabilities to the growing and ever-changing economy. We've come to realise that the main capability preventing growth and sustainability for SMEs in Singapore is having a strong brand. We see brands that have so much potential but are hundered by the lack of a strong brand connection with their customers.
Branding is what we believe both our prospects and existing clients need and will value the most during Singapore's transition to a digitalised economy. This realisation and belief is the reason why we have decided to rebrand ourselves. The rebrand will also enable us to relook into our work processes and more importantly, align our touchpoints throughout the brand.