As a business owner, you may already have your website and socials all set up and ready to go. But have you ever thought of which platform should you invest your marketing budget in? Is it on your website or your social media? You may ask, why do you need marketing when you already have a website or a social media account set up, are they not already considered marketing for your business? Unfortunately, that's not the case. Without any marketing efforts, having a website or social media isn't going to help you much at all. So, the question is should you focus on your website, social media or both? Most business owners have no clue on which platform to invest in simply because they have no time nor the resources to do their own research.
Here is an overview of what Google Marketing and Social Media Marketing entail –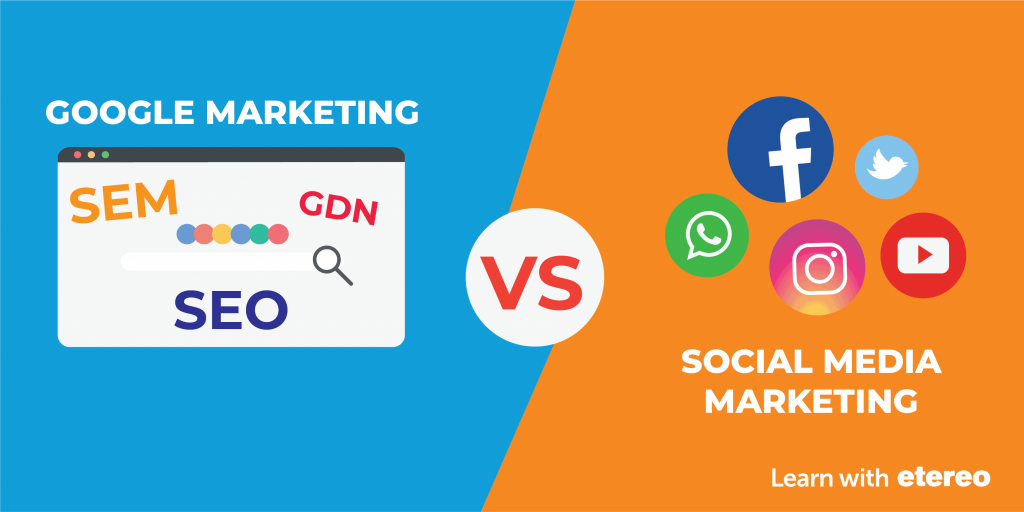 Google Marketing
Google Marketing mainly relies on Search Engine Optimisation (SEO), Search Engine Marketing (SEM) and Google Display Network (GDN). These are the tools readily available on Google Search Engine to help market your brand and website to users across the Internet. While SEO and SEM can work for other search engines such as Yahoo, Bing, or DuckDuckGo, Google is still the best choice since almost everyone is using it. So, what are SEO, SEM, and GDN and how do they help market your brand and website?
Search Engine Optimisation
Search Engine Optimisation (SEO) is an organic and free approach to bringing your website towards the first page of Google's Search Engine Results Page (SERP). Here's an in-depth explanation of what SEO is and how it works.
As some of you would know, most Google users never go past page 1 of the SERP. Having your website appear on the first page of the SERP is the main goal of applying SEO to your website. While SEO may seem like the easiest way to achieve the first page of the SERP in a free and organic way, SEO takes a very long time to work on as it requires heavy optimisation on the website. However, in the short term, it can help to push down SEM's cost per click (CPC) when both SEO and SEM are active through the use of specific keywords that boost the relevance of your page. This helps to increase your page's ranking even faster at a lower cost.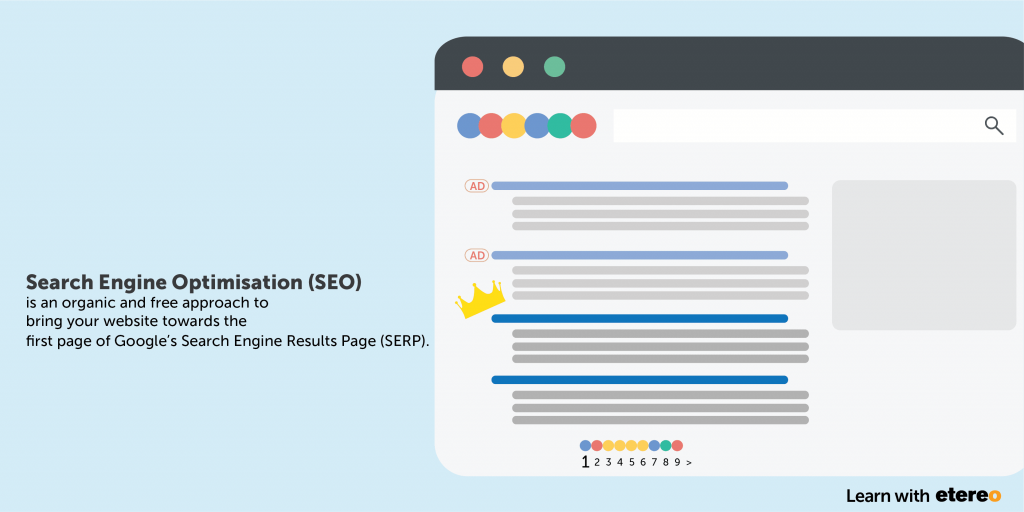 Search Engine Marketing
Search Engine Marketing (SEM) is an approach that uses a Pay-Per-Click model that can bring your page onto the first page of Google's SERP. Cost is only incurred when visitors click on your website via the Google Search Engine. Here's an in-depth explanation of what SEM is and how it works.
Most of the time, SEM consumers have a certain idea of what they want the moment they decide to search it online – which is why they use specific keywords to search. These people belong to a group of highly engaged audiences who are interested in your product or service offerings. With SEM, you can draw these consumers towards your business by navigating them into your website via enticing ads. Only by promoting your website to this group of consumers online can you increase your chances of getting quality conversions.
While SEM can place your website on the first page of Google's SERP, it doesn't mean people will click on it. However, it still makes an impression on visitors who simply scroll past them without entering them, increasing awareness of your brand. That's one safety net of using SEM.
SEM is beneficial to your website because it helps build on your awareness and drive traffic within a short period of time. By complementing it with SEO, you can achieve cost-effective results and at the same time lay a strong foundation towards a long-term sustainable SEO strategy.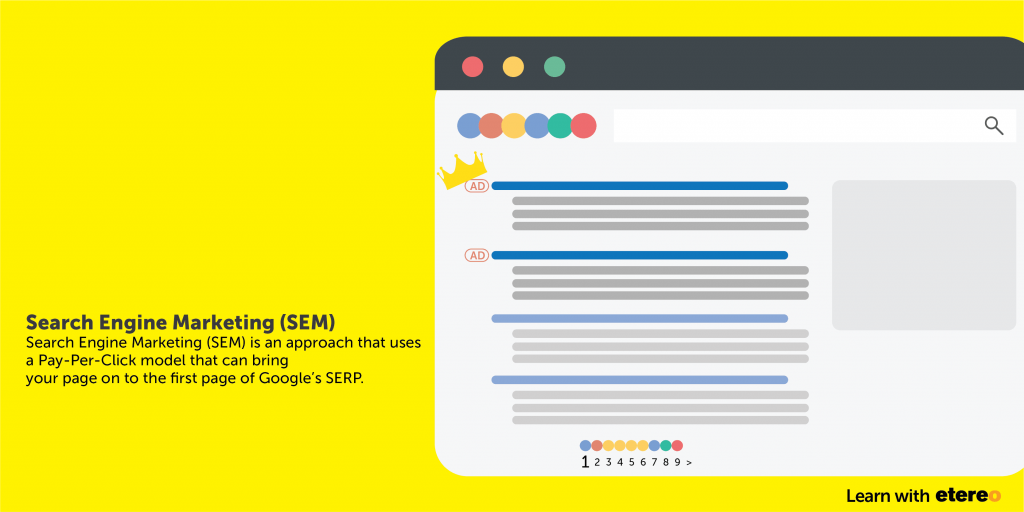 Google Display Network
Google Display Network (GDN) uses a visual approach that captures your
target audiences' attention online. Similar to SEM, GDN also offers a Pay-Per-Click bidding strategy. However, display banners do not appear on Google SERP but instead on a huge network of sites that support advertising on their webpage. They appear as banners to showcase either their products or their brand. Since they are all graphics, you will need designers to help you craft attractive banner ads before you start on GDN. Businesses would want their customers to know the visual consistencies in their brand so as to stand out from their competitors.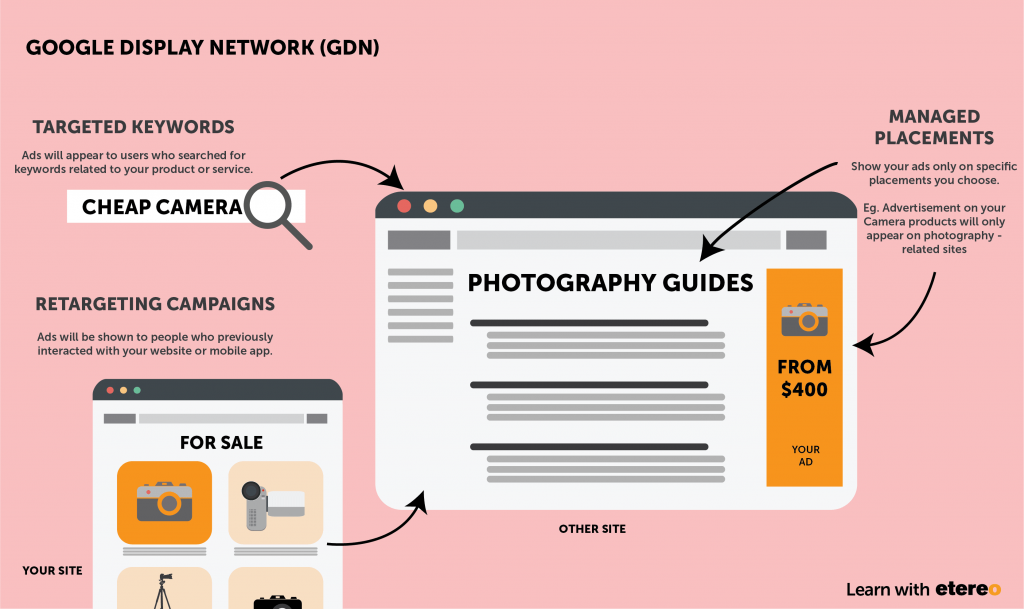 Social Media Marketing
Social Media Marketing uses popular platforms such as Facebook, Instagram, Youtube or even LinkedIn, to help promote your business online. There are built-in functions within these platforms to help you promote your posts to a wide audience. Unlike Google marketing on your website, Social Media allows the owner to interact with their audiences in real time.
There is more flexibility when it comes to Social Media because information can be disseminated easily in the form of texts, graphics, pictures, videos or simply just link sharing. However, Social Media is not meant to replace your website and they complement each other to a large extent. But do remember this, most consumers are always looking out for a brand that gives them the best value.
Using Social Media can help enhance your brand identity by having consistent and meaningful engagements with your target audience. This will then further value-add your customers' experience with your brand.
Each Social Media Platform largely serves different demographics; hence your marketing platform should depend on your target audience.
Facebook has multiple built-in functions to help market your business. Ranging from Sponsored Ads to Sponsored Posts, these features can help you promote your business to your audience in a different way. Only through A/B testing will you then find out which channel is more effective for your business.
Depending on your target audience, you may also want to try marketing on different platforms such as Instagram. However, do note that Facebook users may not be using Instagram and vice-versa.
You can refer to our previous article where we posted different infographics to highlight the demographics that are more likely to use Facebook or Instagram. 
Google Marketing X Social Media Marketing
While having a website and a social media page each has its own merits, it is only beneficial if you market both of them. If you are facing a budget constraint, don't fret! Today, with the flexibility to link these online platforms together, you can easily place the bulk of your focus on one platform yet also enjoy the expanded outreach to your audiences enabled by this integration. Nonetheless, you will have to constantly touch up on all your digital platforms (website, Google Ads, Social Media etc) to patch up any inconsistencies amongst them.
One important thing to take note of Google Marketing takes on a passive position where it relies on the target audience's behaviour. Your audiences have to search for something relevant to your business before your Ads can show up. This would mean that your audiences would not know of your existence until they are actively looking for a similar product or service.
On the other hand, Social Media Marketing takes on a more aggressive position where information is transmitted based on your demographic selection. Any users
that fall under the selected parameters will be able to view your Sponsored Posts or Ads.
Because of how Google Marketing and Social Media Marketing work, businesses need them at the same time to fully capture their intended target audience.
Closing Thoughts
While there are many other strategies and tools to use to market your Brand, marketing through Google and Social Media is one of the most cost-effective methods. Not only does do so save costs but also you can analyse how effective your campaigns are and make improvements where necessary with the data obtained. On the other hand, traditional offline forms of marketing such as print advertisements, billboards or radio can be costly and are not easily measured when it comes to tracking their effectiveness. In this era where we face audience fragmentation, it has become increasingly challenging for businesses to reach out and make meaningful engagement with their target audience. While traditional marketing still plays an important role today, the proliferation of the Internet has brought most consumers into the digital sphere. The capabilities that online platforms offer, including the data insights they provide, prove that Google and Social Media marketing are areas to be tapped into as they are highly effective and yet at a reasonable cost.
As always, we are happy to hear from you.
Etereo is a content, branding, and digital marketing agency which collaborates with companies to grow their businesses. We are here to help, talk to us if you require any assistance on any of these Google tools –be it installation, analysis or strategic methods of using them to grow your businesses. And we work on real-time data that resonate in the moment and of course, in your context.
To your success!