Over the years, LinkedIn has changed a great deal since it first started as a career networking platform in 2002. Today, hundreds of millions of people are connected to this professional network all over the world.
Fun Fact:
LinkedIn is older than Twitter, Facebook & Instagram. LinkedIn has become the no. 1 platform for professionals to connect and explore business and career opportunities across borders every day.
Once you start building your personal and corporate brands on LinkedIn, you'll be surprised at the number of opportunities that will come knocking on your door. It all starts with growing a strong network simply by sharing ideas and solutions, starting conversations and demonstrating your expertise with other professionals.
Community engagement is one of the best ways to connect with people, to learn and identify new opportunities, at the same time achieving productivity and success.
Fun Fact:
50% of LinkedIn members are more likely to purchase from a company they engage with on LinkedIn.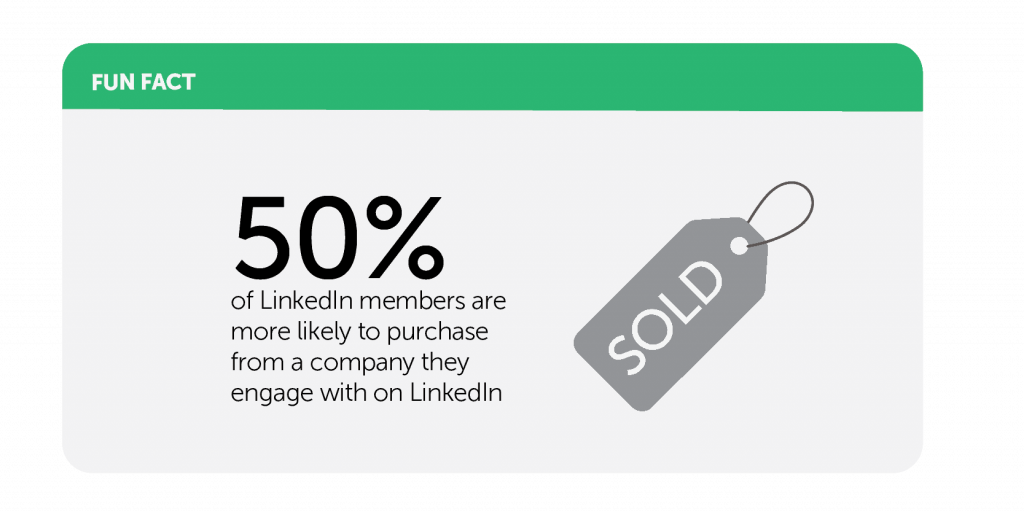 Source: DemandWave
So, the question is, how do we effectively leverage on LinkedIn to generate traffic, engagements and quality leads?
First, let's establish the types of profiles on LinkedIn:
• Personal Profile
• Company Page
Personal Profile
The Profile page is where you represent yourself as an expert in your field to showcase professional experience and skills, accomplishments and endorsements. Unknowingly to some, LinkedIn has become the best tool for professional and personal branding with a "human touch". LinkedIn allows you to connect and interact with a highly targeted audience based on their industries down to specific job titles.
Tips and strategies for your Personal Profile:
#1 Professional Headshot
It's surprising to see how many LinkedIn profiles have no headshots. Having a professional headshot on your personal LinkedIn page helps users to recognise you and add credibility to your profile by projecting confidence and professionalism. It leads people to connect with you as it creates a strong human touch to your profile. We suggest picking a friendly profile picture that aligns with your position.
Fun Fact:
Adding a headshot results in 14x more profile views.
#2 Optimise Your Visibility
To make your profile highly visible to search engines, do set your profile to public so that everyone can view. It's important that others can see your profile online, to be highly visible and professional at all times. Before you do that, make sure you have filled out your profile completely; who you are, what you do, where you're from and summary of your current and past job positions. The more specific, the better. Everyone has a unique career path which is a big part of who you are, showcase your professional journey on LinkedIn, let your personal brand shine and stand out on LinkedIn.
#3 URL
Edit your default URL on LinkedIn by creating your custom URL to look more professional. After you're done, you may share your LinkedIn URL everywhere. To enhance your personal branding, we suggest using your full name (or the name you're known professionally), and you can expect your personal brand to be on top of search rankings.
#4 Headlines
By default, the headline is your current employment position, however you may customise it to demonstrate your expertise on your role. Think of the headline as your brand's tagline. It's the first description many people will see, so make it count! A killer headline tends to draw more traffic and engagements.
#5 Network
With LinkedIn, you can easily find professionals who are related to your business. Expand your professional network by reaching out to people whom you believe can help your business and grow your personal brand. You'll be amazed at the people you'll find on LinkedIn so don't be afraid to make connections with professionals and join relevant industry groups. Show your expertise by contributing to the conversations. You may even create your own targeted LinkedIn group to get more influence and send messages to your members. Networking increases your LinkedIn engagements and ideally quality leads.
#6 Connect with Potential Clients
Making meaningful connections help to generate leads, reach out to your targeted audience and connect with them. As a nice gesture, send a "thank-you" note to your new connections, it's always nice to leave a first good impression. Building and cultivating business connections on LinkedIn can lead to trust and rapport, the key foundation for successful business relationships.
#7 Post Updates
Posting updates on your network helps you to stand out in front of the right people. By sharing relevant articles or even commenting and liking other people's updates, can get your name out there. Showcase your expertise in your field and be found by potential clients. Keep things business-like and avoid topics that don't help you maintain a professional image. Post regularly and stay active on LinkedIn and you'll definitely get more attention.
#8 Content
Knowing your audience's demographics and their background experiences can help you create engaging content for them. When you share original content, you are also establishing credibility on the platform. Share content that related to your targeted network's interest, such content will improve engagements and hence strengthen up the relationships with your targeted audience. If you have existing content, such as a blog, you may share relevant blog articles with your network.
#9 InMail
InMail allows you to connect with other members on LinkedIn, but this doesn't mean going around spamming.
It can be annoying to have desperate people trying to sell their services to everyone. No one really cares about you, people want to know what you can do for them. The focus has to be on the person you want to help. The most important thing to remember when you're sending an InMail is that, you are engaging with a real person, and that person has to feel that you're genuine in helping them otherwise, it can backfire.
#10 Endorsements and Recommendations
LinkedIn Endorsement and Recommendation are the strongest social signals you could send another professional by helping to strengthen their personal branding thus creating a potential spark for further engagement. Not to mention, visitors to that profile will potentially see your Endorsement and click through to view your profile thus creating traffic back to your profile page. Remember to reach out and thank those who have endorsed you, keep the engagement going.
If you don't have a LinkedIn account yet, register here.
Company Page
A LinkedIn Company Page allows your employees to add their current position with your company to their personal profiles, this will automatically make them followers of your Company Page. Featuring your LinkedIn Company Page on personal profiles actually drives more traffic to it. Update valuable and high-quality content to it regularly will help you build trust and establish your expertise with your potential or existing followers.
Tips and strategies for your Company Page:
#1 Branding
The branding on your LinkedIn's Company Page must align with your company's branding, there is no exception. A strong brand image creates recognition, if you don't put effort into maintaining a consistent brand image throughout every aspect of your brand, you'll find it very hard to develop one that is easily recognised. Building a recognisable brand overall improves brand loyalty and increases customer base. Things to consider: logo, headline, images and content.
#2 Employer Branding
Your Company Page is the LinkedIn version of your website. It is one of the first places that potential candidates will check out when they are considering whether or not they should apply for a position in your company. Creating a strong employer brand will immensely help you recruit and retain talent. For a company to attract top talent, it needs a strong employer brand, just like a strong consumer brand to attract customers. According to LinkedIn research, a strong employer brand reduces cost per hire by (CPH) up to 50% and lowers turnover rate by 28%. Employers that effectively engage with their employees instil loyalty and build a high-performance team that drive higher sales revenue because highly engaged employees are more productive and committed.
#3 Keywords
Using the right keywords in your LinkedIn Company Page is the difference between standout and invisible. Ensure you are using keywords that your ideal clients are likely to search when looking for your services and strategically place them throughout your description (headline, summary and content). Using the right keywords will expose you to more potential connections and opportunities, people are searching to solve problems in their business every single day.
The more specific your profile the better, LinkedIn Company Pages are extremely SEO-friendly, this means people can easily find you via search engines. Google previews up to 156 characters of your profile summary, so be sure that your profile description kicks off powerful and keyword-rich.
#4 Logo
We strongly advise you to add your business logo and a banner image on the Company Page which will not only bring your page to life but also drive more traffic to it. Again, all images should be consistent and align with your Brand's image.
Fun Fact:
Companies with logo images drive 6x more traffic to their pages.
#5 Content
Users on your LinkedIn Company Page are there for a purpose. They are either researching on your company or looking to network with you.
Make sure your content is simple and easy to understand, having easy-to-read content makes browsing more comfortable and quicker for users. When your posts are appealing, insightful and useful, it will bring value to your audience. Adding relevant images or videos to your posts would be an effective way to capture readers' attention.
LinkedIn Company Page is not the same as the "about us" page on your website but a marketing platform to entice users to want to follow and engage with your company. Treat your Company Page as a hub for sharing content beyond your website, think about how readers would benefit from your Company Page. Just like any other social media platform, LinkedIn is a place for your Brand to start conversations with your followers.
If you have a compelling offer, content, or company news you like your audience to see, just pin it to the top of your recent updates section, making it visible for everyone who visits your page.
We encourage you to share new and any existing content you may have on solving problems for your audience to continuously engage them. If you have a blog, share your blog articles. To direct these readers to your website, publish a short paragraph of content followed by a "click to continue" call-to-action which links the rest of the article to your website. This way you can drive people from LinkedIn to your website. The more traffic you get, the more leads you can generate. Vice versa, to increase readership from your website to your LinkedIn Company Page, you may add a follow button across your website to simply direct users to the page.
In summary, LinkedIn is a great marketing tool to:
Closing Thoughts
There are just so many benefits one can reap from LinkedIn –the no, 1 and largest professional network in the world. Whether you are new to LinkedIn or have used it for some years, we hope you will start taking advantage of this incredible platform today.
Talk to you soon!
As always, we are happy to hear from you. Etereo collaborates with clients on design and content marketing. Talk to us if you wish to get the most out of LinkedIn. Looking forward to hearing from you – marketing@etereomedia.com.
Related Posts: