A Brand is successful when her core values are embraced and acted upon. Values are powerful components of a Brand's Identity. Values also guide all actions of the brand, creating unison throughout its messages. This unison establishes the foundation for building a relationship with consumers.
The real issue brands face comes from the lack of differentiation from competitors. Apart from reading reviews or researching through online channels, which is abundantly and easily available, successful brands have a strong affinity to a single (or set) of core values that make them triumph.
Think of successful contemporary brands in today's context.
This is one of Adidas's core values,
"We are innovation and design leaders who seek to help athletes of all skill levels achieve peak performance with every product we bring to market."
Another from Starbucks,
"Creating a culture of warmth and belonging, where everyone is welcome."
Starbucks has excelled in projecting that value throughout its stores. As we will learn shortly, successful brands have a clear value that customers can relate to.
Young Entrepreneur Council contributed to The Huffington Post about what makes a brand genuinely iconic. Their views align with our beliefs on how brand values make businesses thrive.
1. Have a Clear Value and connect it to your customers
Some notable brands to take an example from are Jeep and Nike. The former promises an adventure. The latter exudes personal accomplishments and athleticism.
In our previous blog post on Branding Trends for 2018, we discussed how making your brand relatable to your customers will make them trust you. The relation creates a relationship on a deeper level that tells them that "this brand understands me."
The only way to achieve that relationship is by identifying your core values. If you have previously created them for the sake of it, think of a new set of values that your brand truly believes in.
2. Stay True to Your Values Over Time
Before making the same mistake of chucking our values aside, you need to be consistent in connecting that value with your audience. The constant effort for Brand Affinity is not easy. The good thing is that you know what value(s) to showcase. The next question is "How?"
The lack of consistency and effort makes a brand's branding weak. Real brands always link back to their values. Remember Nike; or TOMS and Ikea?
No matter what the circumstances are, brands are to stick to their values. The only time that you should reassess them is when your brand or value comes under scrutiny.
Continuously take your beliefs and help your customers to connect with them. You have to talk the talk and walk the walk.
3. Walk with the times, don't jump.
Your Brand Values and social trends are two different areas. While we agree that some brands need to stay contemporary by following trends, trends do not dictate brand values. Rather, it is the way brand values are expressed that changes according to the trends. Changing the way you express your values should not be dramatic because it shifts your messages out of alignment. It will also be confusing for your customers who already know how you stand by your values.
Here's an example of a brand story from a local café frequented by one of our staff, so frequent that he noticed a positive change in the brand story.
It is a great example of expressing the evolution of brand values over time.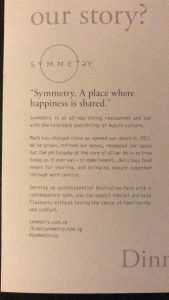 People love familiar things – so keep some elements original and do a minor facelift. A famous example is Coca-Cola, who evolved over time and modified its logo while still retaining its identity. Brands do not always have to do something entirely novel.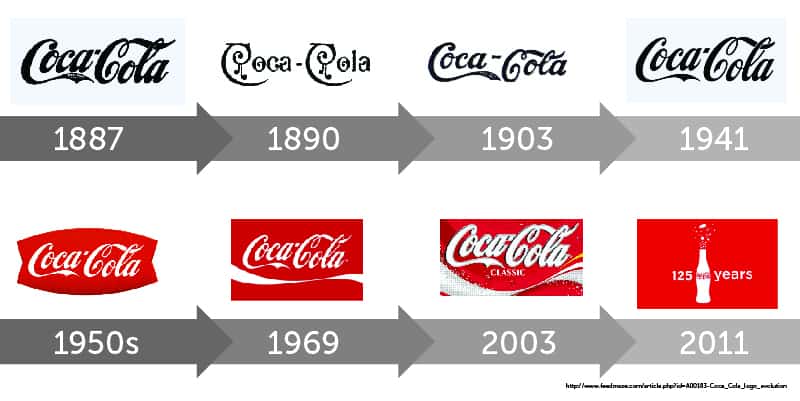 4. Never Forget Your Primary Audience:
Let us assume you have already done a great job at relating to your audience. As we know, there are various types of customers that patronise our products and services. Among them, there will be a large group that are your core customers. These are the very ones that helped your business take off – the ones who directly relate to your core values.
For Ikea, it is for suburban families, although companies can also purchase them to furnish their office. Nike's would be runners. LUSH, a cosmetics retailer, focuses on environmentally-conscious consumers. Even as these brands have grown to be liked by a broader audience, what these brands have in common is that they never forget their core customers. These customers are your bloodline. They remain loyal to your brand so long as your values stay aligned with their beliefs. Always remember to emphasise them.
5. Quality is an unspoken Brand Value
Quality for brands takes many forms. People may view it as a service; the product; or even the integrity of the brand. The simplest way to explain this is to provide the highest standards throughout your brand.
Providing any dimension of quality in your brand is proven to increase profitability. According to MIT Sloan Management Review, improvements to performance, features, or other facets lead to increased sales and market share.
The editors at Business.com believe that improving product quality is the best area to develop because it leads to numerous benefits. To them, product quality leads to happy customers which build trust, credibility, and loyalty.
Regardless if any dimension of quality is mentioned in your values, brands must provide high standards to be successful. There is no room for sub-par quality. All successful brands embrace high-quality standards throughout their company. It is not a choice but a norm for them.
The Wrap Up
Brand values are more than just words that a brand says, they actually affect your chances of success. The underlying trait to success is that brands have to embrace and live out these values. They encompass everything that a brand does, both internally and towards customers.
Through believing in your values, you create a trickle-effect, making all your processes and marketing efforts align with your company's goals. When this happens, watch your business thrive.