Singapore Budget 2019 which was announced on 18 Feb 2019, which includes the revised government revenue and expenditure projections for the upcoming financial year. Each new financial year begins on 1 April of every calendar year and ends on 31 March of the next calendar year.
The budget measures worth of SGD$1 billion was announced to help local business to build capabilities in depth through customised solutions. We have summarised the key takeaways for local businesses to take note, particularly in Productivity Growth, Internationalisation, Financial Support and Employment Matters.
1. Productivity Growth
Extended
Enterprise Development Grant (EDG)
Innovate and scaling up of business capabilities such as Brand and Marketing
Three-year extension (till 31 March 2023) of enhanced support level of up to 70%
Enhanced & Extended
Productivity Solutions Grant (PSG)
Access to easy-to-adopt IT solutions and equipment to enhance business processes
Support out-of-pocket training expenses, capped at $10,000
Three-year extension (till 31 March 2023) of enhanced support level of up to 70%
2. Internationalisation
Market Readiness Assistance (MRA)
Overseas market set-up: identification of overseas business partners, overseas market promotion, building internal capabilities, manpower development and gaining market access
Fund support of up to 70%
3. Financing Support
New
Enterprise Financing Scheme (EFS)
Financing support to meet business needs at every stage of growth
To launch in October 2019
The six financing areas:
Working capital
Fixed assets
Trade
Venture debt
Mergers and acquisitions
Projects
Internationalisation Finance Scheme (IFS)
Assist businesses to venture abroad and are in need of financing facility
Access up to S$30 million in credit facilities
Internationalisation Finance Scheme (IFS) – Non-Recourse
Assist businesses to participate in more regional small-scale infrastructure project opportunities
Post-construction phase only
Extended
SME Working Capital Loan
SME Working Capital Loan will be folded into the EFS
Extended for another two years till 31 March 2021
4. Jobs and Skills
SkillsFuture Earn and Learn Programme (ELP)
Work-learn programme for Institute of Technical Education (ITE) and Polytechnic fresh graduates
SkillsFuture Leadership Development Initiative (LDI)
Develop leadership competencies and critical experiences for the next generation
SkillsFuture Work-Learn Boot Camp (WLB)
Equip fresh graduates and mid-career individuals with behavioural and technical skills
Productivity-Max (P-Max)
Funding support to better recruit and retain professionals, managers, executives and technicians (PMETs)
Wage Credit Scheme (WCS)
Co-funding scheme for qualifying wage increases for Singaporean employees
Gross monthly income of up to $4,000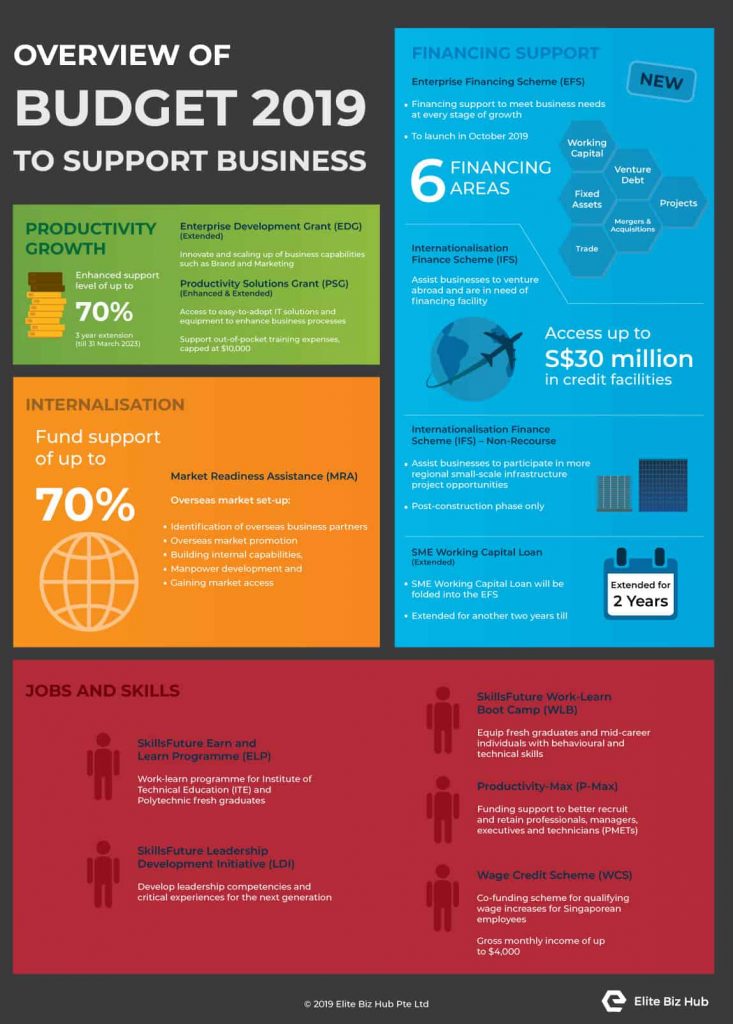 In closing, Singapore Businesses must press on with transformation in order to ride the wave of change evolved by technological developments and demographic shifts. For more information on how our government supports the local businesses in their transformation efforts, read more about Budget FY2019.
Elite Biz Hub is proud to support the above programmes and initiatives. Talk to us on how we can support your transformation roles in your business.
Together, we build a brighter future.