Digital Marketing is the use of digital applications and the internet to reach a wider base of consumers. It can span a range of avenues to attract customers, such as via email, content marketing, search platforms, social media, and more.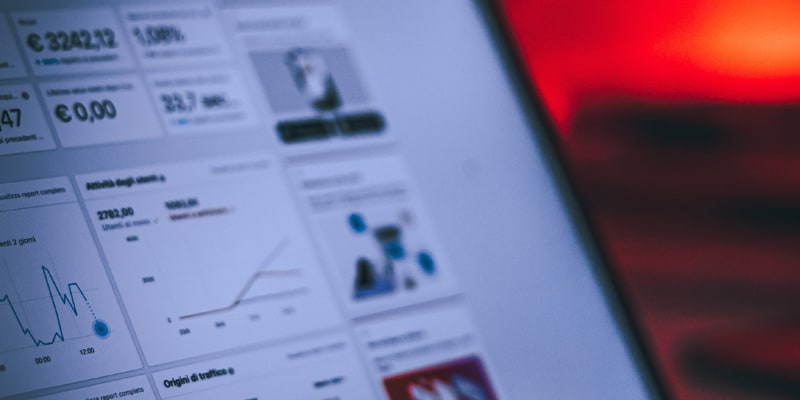 Even in our current day and age, most companies still heavily concentrate on traditional methods of marketing, such as print, television and direct mail. However, these methods are gradually becoming less pronounced in an increasingly digitalised world. This situation underscores a need for omnichannel marketing, which uses various channels, both offline and online, to gain access to a wider range of audience.
As mentioned earlier, Digital Marketing covers a broad range of tactics and platforms. With each strategy comes its own set of planning. Social Media Management, Social Media Campaigns and Search Engine Marketing are just three of the many ways to engage in Digital Marketing, and they are the common methods of marketing that people think of in the digital sphere.
Here's an overview of the categories of Digital Marketing that we'll be discussing here.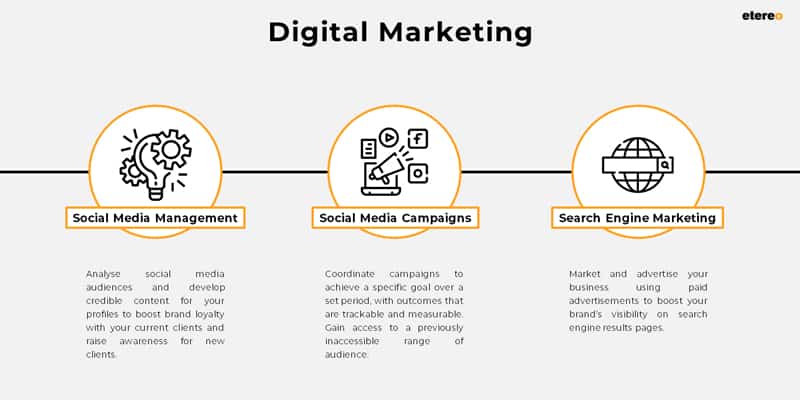 Social Media Management
Social Media Management is the process of analysing social media audiences and developing a strategy that is tailored to them. By creating and distributing content for social media profiles, a brand can concentrate on engaging her current clients to increase brand loyalty and provide an avenue for previously uninitiated clients to explore, for the sake of raising brand awareness.
Social Media Management also provides community engagement and an outlet for brands to discover what their clients are saying about them. Manage your social channels in an organized, efficient manner that delineates your brand and her values to your clients consistently and your brand will reap the rewards of establishing a deeper connection between your brand and her loyal customers.
Social Media Campaigns
Social Media Campaigns are a series of coordinated activities aimed at achieving a specific goal over a set period, with outcomes that are trackable and measurable. These goals may include raising brand awareness in the form of follower count, or increasing conversions for your brand, from spectators and audience to actual buyers.
Social Media Campaigns are akin to advertisements displayed on television – except that they occur on the social media landscape. It can be either limited to a single network or take place across multiple platforms. A successful Social Media Campaign is highly dependent on a wide variety of factors and can be tweaked along the way to optimize the results of each campaign.
Search Engine Marketing
Search Engine Marketing is the practice of marketing a business using paid advertisements that appear on Search Engine Results Pages (SERPs). SERPs are tricky to handle, as it takes considerable effort and time to establish your brand's foothold in the first few pages organically. You need high brand awareness and recall to achieve those results.
Thus, Search Engine Marketing provides a (legitimate and credible) method of establishing your brand in the first few pages of SERPs. Increase the visibility of your brand through Google Display Network so that your customers never miss out on you.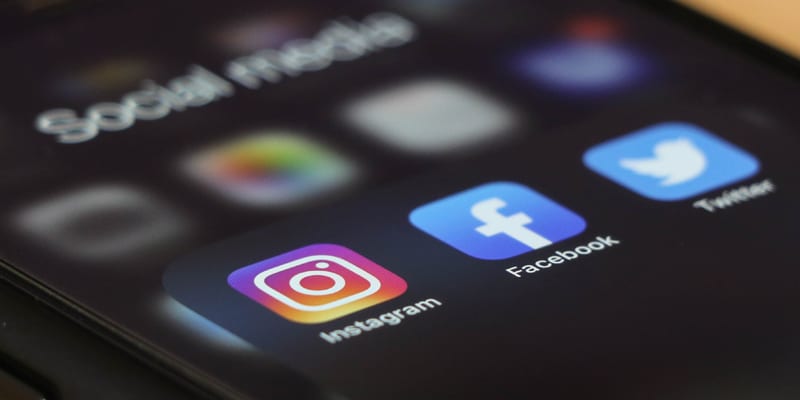 Why Should My Company Do Digital Marketing?
Many probably assume that the number of digital users is stagnating, given how connected the world seems right now. However, the numbers are still steadily increasing, and are not projected to stagnate any time soon.
COVID-19 has reconfigured the methods that brands can use to engage with their customers. With lockdowns going into full effect, nearly everything has shifted online. Digital Marketing will be an avenue for your brand to express herself, attract more customers and carve out a consistent presence for your brand in the digital sphere.
But you're not the only one.
Thousands, if not millions of other business owners are probably thinking along the same line as you. They hope to tap on digital offerings to improve their business outlook as well. In a sea of businesses flooding the internet, how does you make your brand stand out?
Many business owners simply post a few posts on their social media sites and call it a day. However, they are missing out on a wealth of opportunities by not optimizing their social media strategies and accounts. You can do so much with your social media accounts, but whether you choose to or not depends entirely on you.
What are the benefits of doing Digital Marketing and doing it well? Have a look at some statistics regarding the benefits.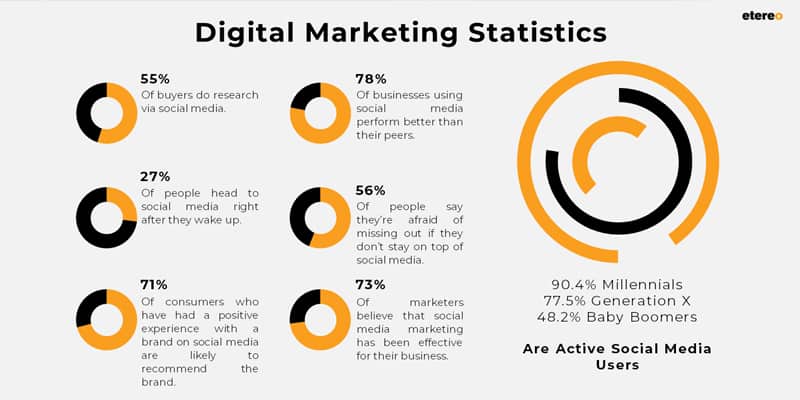 Are you still unconvinced? Here are some case studies for the projects we've worked on before so that you can better understand how Digital Marketing helped these businesses broach uncharted digital territories!
Lye Heng
Increasing Customer Base Through Social Media
About Lye Heng
Established in 1978, Lye Heng Food Supplies began as a humble catering service, dedicated to perfecting their buffet spread to the satisfaction of their customers. Trusted by faithful clients from government bodies and private parties, Lye Heng is a renowned brand, and their buffets are stringently quality controlled.
The Challenge
To expand her current customer base, Lye Heng saw the need to go digital. However, without the right knowledge to embark on digital marketing, they struggled with the inability to translate their appetising buffet spread into engaging content.
Our Solutions
This is when Etereo stepped in and did a complete overhaul of their portfolio. To better engage their target audience, we focused on different aspects of marketing strategies, which encompasses both portfolio clean-up and content curation.
After conducting in-depth market research on Lye Heng's target audience and competitors' digital activities, we gathered key insights to identify the online habits of the target audience. This information was then used to strategise Lye Heng's future content. This includes where to find these customers online, and their interests.
In the food catering industry where visuals play a key role in capturing their target audience, Etereo combined tasteful designs and photographs with engaging copywriting to pull their audience in and make their mouths water.
Significant Statistics
· 4X the Number of Organic Engagements as Compared to their Old Christmas Posts
Purpur
Maximising the Marketing Budget
About Purpur
Established in 2002, Purpur is a locally established women's clothing brand in Singapore that manufactures their own label and has 8 retail stores nationwide.
The Challenge
Having been in the market for 19 years, Purpur saw the need to digitalise to remain competitive. They had two main goals in mind for their digital marketing efforts – to increase their digital presence and to increase their online purchases. However, despite their big budget for marketing, they realised that they weren't doing well in terms of online sales.
Our Solutions
To diagnose the root cause of the problem, we researched their past marketing campaigns and analysed their website data. We found out that the lack of website traffic was the main problem in the lack of online purchases.
Thus, we began to drive traffic to Purpur's e-commerce store through several rounds of testing and campaign launches. Having attracted quality website traffic from engaged shoppers, a retargeting campaign was launched to further reduce the cost per click to acquire new customers for Purpur.
With a well-planned campaign structure, we soon had trackable and measurable real-time results.
Significant Statistics
· 57% Increment in their Website Traffic
· 320% Increment in their Purchase Rate
· 55% Decrease in the Cost to Acquire Clients
Playpoint
Slow, Fast, and Sustainable Growth with a Two-Pronged Method
About Playpoint
Established in 2001, Playpoint is an award-winning playground and landscaping consultancy that aims to push the boundaries when it comes to designing engaging and safe play spaces for our children. With 5 offices in South-East Asia, Playpoint is set to expand even further internationally.
The Challenge
Playpoint's goal was to raise global awareness on their brand and gain a foothold in uncharted international territories. They also sought to collaborate with like-minded partners to give back to society by city-planning and creating more breathing and community engagement spaces. Through social media, they also aimed to groom the new generation to keep the passion for design-thinking burning, and to build iconic playgrounds that would evoke nostalgia for the generations to come.
Our Solutions
Unlike B2C companies who has direct sales and conversions to track, social media management and campaigns are structured and measured differently for a B2B company.
To grow her brand online, Playpoint entrusted us with curating engaging content that would interest the target audience, based on what we have gathered through real-time data. We built content that aligned with her brand principles and mission, so that her audience will thoroughly understand her.
With highly engaging content and a series of online campaigns, Playpoint has gained clients from the countries they hoped to target. These results are tracked by their internal system, which is completely transparent and actionable.
Significant Statistics
· 238% Increase in Website Traffic
Are you looking to develop your brand's presence on digital platforms, but don't know where to begin? Contact us for a complimentary, no-obligations, digital brand audit today.