Learning how to differentiate your brand the right way is crucial in creating a sustainable business. Most companies use price as their differentiating factor however this is neither sustainable nor should it be the sole differentiator of your business.
To create a sustainable and meaningful differentiation, use one or all three of these chief strategies: Be the first, Own an attribute, and Specialise. Great brands are known to employ all three.
Be the First
Being "first to market" – means being the first to create a demand and fill it. This puts your brand in the market leadership position giving you a strong differentiating advantage. This strategy works regardless of it being true or perceived. That is why everyone knows the iPad but few have heard of Microsoft's XP tablet, even though it was the first tablet in the market (12 years before the iPad). Among other things, Microsoft failed to create a demand for her tablet and customers saw it as just another IT product created by Microsoft.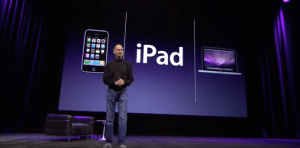 Steve Jobs announcing the iPad in 2010
Source: Youtube
"First to market" is commonly referred to as providing a new product, service, or experience to customers. By strongly promoting your brand as "the first", your competitors are rushed to make products that don't appear so obsolete, predictable, or similar in comparison – placing you as the market leader in that specific product. If you have a product or service that's almost indistinguishable from your competitors then owning an attribute is the way to go.
Own an attribute
After fulfilling common customer expectations such as providing friendly service, fair prices, and quality products, there are other countless attributes for differentiation: fun, safe, caring, genuine, creative, etc. The goal for your brand is to identify a single attribute that no one in your industry uses or one that your main competitor is seriously lacking in – then adopt that attribute as the defining one for your brand. 
Here's Dollar Shave Club, a brand that challenges big brands like Gillette in the razor industry with light-hearted and witty messages – a very unexpected attribute compared to the industry that fixates on the professionalism and masculinity of its products.
Dollar Shave Club injects humour and further differentiates herself by providing delivery services on their blades– something that no razor brand has ever offered – now that's something worth sharing with your friends.
Owning an attribute requires you to overdeliver and communicate it at every touchpoint. Yes, we mean every touchpoint! Learn how to engage customers through your touchpoints in "Brand Perception and Reality."

Customer expectations for everything at Dollar Shave Club is centered on its fun and witty attributes. By owning a meaningful attribute, people have a compelling reason to consider you and are more likely to remember you.
Specialise
Perhaps one of the most effective means to differentiate your brand and avoid constantly chasing new customers is to specialise in a target market.
By designing your business to appeal specifically to a single type of customer, you become known as an expert for that market. Let's look into the world of personal care, there are countless brands providing the same undifferentiated range of products – lab-tested and goal-specific makeup, haircare, body wash, etc. Then there's LUSH, a cosmetic brand specialising in socially responsible and handmade personal care products.
The people at LUSH have developed deep expertise in the art of using ethically-obtained ingredients and creating their products by hand, knowing exactly what their socially responsible customers expect of them and need. These expertise separates them from the crowd of other personal care brands that bank on the beauty promises they offer. If you were looking for a personal care brand that is socially responsible, would you pick – the one whose core process involves using ethical practices and ingredients or one that merely believes in social responsibility but promotes solely on beauty?
Great brands know how to differentiate
themselves
Humans are naturally born to notice differences and these differences are often what attract people to your brand in the first place. A strong and clear differentiation empowers brands to stand out amongst the sea of competition thereby reeling in customers.
Companies chasing customers of every segment believe they are doing the smart thing by maximising the range of customer appeal, but are actually taking more risks and harming their brand  which may not always be clearly visible. Appealing to a mass market can blur your brand message and prevent you from finding loyal and valuable customers. Take the higher road by differentiating your brand in a way that's individualistic, unexpected and specific in your industry.
Closing Thoughts for SMEs
Now you are right to think that using all 3 strategies will take up considerable time, effort, and resources – some may not be applicable to your business right now. Every business has its constraints, some may have limited resources, others simply have no additional manpower to embark on these areas for growth.
The good news is that it's not necessary to use all 3 to differentiate your brand. Any one of the above will empower your brand to be distinguishable from your competitors.
Focus and consistency on one strategy is better than having many strategies and poorly executing them. We recommend starting with one of the strategies, let's say "Owning an attribute," and doing a fantastic job at it – and we have a brand that portrays this perfectly.
Let's look at Sogurt, a local retail yogurt store that grew into a café and dessert bar. Sogurt focuses on being a "fun" and "loving" brand to differentiate themselves. Sogurt understands the importance of owning an attribute and does it well. Clearly visible at all their touchpoints, customers can see that Sogurt is a distinct brand, compared to the monotony of other yogurt brands.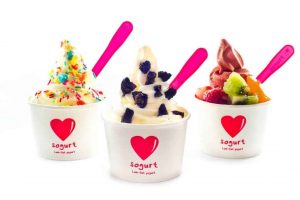 Single-serve cup displaying sogurt's iconic "heart-shaped" logo
Source: Sogurt Website